2016 Grammy Nominees Announced - Including VC 'Artist' Augustin Hadelich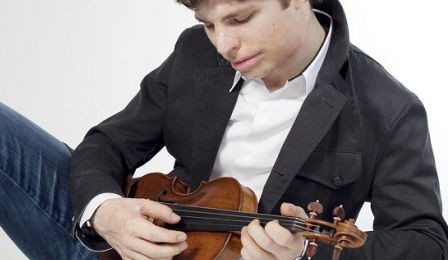 The nominees for the 2016 58th Annual Grammy Awards have today been announced - including violin virtuoso Christian Tetzlaff, the Takács String Quartet and VC 'Artist' Augustin Hadelich.
The 2015 classical nominees include:
Best "Orchestral Performance"
"Bruckner: Symphony No. 4" with conductor Manfred Honeck and the Pittsburgh Symphony Orchestra

"Dutilleux: Métaboles; L'Arbre Des Songes; Symphony No. 2, 'Le Double'"

 

with conductor Ludovic Merlot and the Seattle Symphony

"Shostakovich: Under Stalin's Shadow – Symphony No. 10" with conductor Andris Nelsons and the Boston Symphony Orchestra

"Spirit of the American Range" with conductor Carlos Kalmar and the

 

Oregon Symphony

"Zhou Long & Chen Yi: Symphony 'Humen 1839′" with conductor Darrell Ang and the New Zealand Symphony Orchestra
Best "Chamber Music/Small Ensemble Performance"
"Brahms: The Piano Trios"

 

featuring Tanja Tetzlaff, Christian Tetzlaff and Lars Vogt

"Filament" featuring the Eighth Blackbird

"Flaherty: Airdancing for Toy Piano, Piano & Electronics" featuring Nadia Shpachenko and Genevieve Feiwen Lee

"Render" featuring Brad Wells and Roomful of Teeth

"Shostakovich: Piano Quintet & String Quartet No. 2" featuring the Takács Quartet 

and Marc-André Hamelin
Best "Classical Instrumental Solo"
"Dutilleux: Violin Concerto, L'Arbre Des Songes" featuring Augustin Hadelich, conductor Ludovic Morlo and the Seattle Symphony.

"Grieg & Moszkowski: Piano Concertos" featuring Joseph Moog, conductor Nicholas Milton and the Deutsche Radio Philharmonie Saarbrücken Kaiserslautern

"Mozart: Keyboard Music, Vol. 7" featuring Kristian Bezuidenhout

"Rachmaninov Variations" featuring Daniil Trifonov and the Philadelphia Orchestra

"Rzewski: The People United Will Never Be Defeated!" featuring Ursula Oppens

 

and Jerome Lowenthal
The winners will be announced at a ceremony in Los Angeles on February 15th.
PICTURED: 2016 Grammy Award Nominee, VC 'Artist' Augustin Hadelich