Zubin Mehta first joined Maggio Musicale Fiorentino in 1961 as a guest conductor, became its music director in 1985, and held this role until 2017. He has served as the company's director emeritus for life since 2006.
News of the donation was announced at the company's new auditorium, which was named "Zubin Mehta." According to the press release, this solidifies Mehta's relationship with the Maggio and the City of Florence of over 50 years in musical collaboration.
The one million dollars in Tesla shares is one of the largest and most significant private donations Teatro del Maggio Musicale Fiorentino has ever received. 
On naming the Maggio auditorium after Mehta, Maggio's superintendent Alexander Pereira stated: "We thought it was the right recognition for an artist like him who in the course of his life has given beauty to Florence and to the world: this room, one of the most beautiful in existence, could not be named otherwise!"
"I take advantage of this announcement to issue a challenge: since this is a donation in Tesla shares, I hope that the message can reach Elon Musk (Tesla's CEO) and I ask him if he can do the same for the Maggio," Pereira added. "It would be a way of recognizing the beauty of Nancy and Zubin Mehta's gift."
"My wife was so moved when she learned of the [auditorium's name as Maestro Mehta], that she decided to make part of our Tesla shares available to the theater so that the superintendent and the mayor can use them as they see fit," explained Zubin. "I never expected the room to be dedicated to me. I was not expecting anything and I am also very grateful for this gift.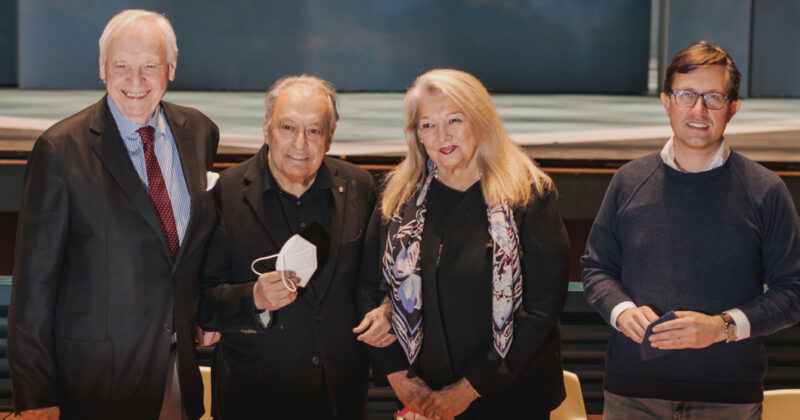 "[Zubin] is an extraordinary figure which I hope will also be a stimulus for others for further gestures of generous support because culture also needs philanthropy," stated Maggio Foundation's president and Mayor of Florence Dario Nardella. 
"This theater and everything in Florence, but not only in the rest of Italy, enriches our civilization and this enlightens and supports us. And it must be protected!" added Nancy. "Zubin and I are really excited to be able to make this donation, hoping it will set a good example for other people and inspire them to do the same."
According to Radio Classique, Mehta's donation will also support the company as they operate within the parameters of the pandemic. Unfortunately due to COVID-19, among the canceled performances include Cherubini's comic opera Lo Sposo di tre e marito di nessuna on January 22 and 24, 2022.
The company's upcoming concerts on February 4, 6, and 8, 2022, will be held in the newly-named Zubin Mehta auditorium.