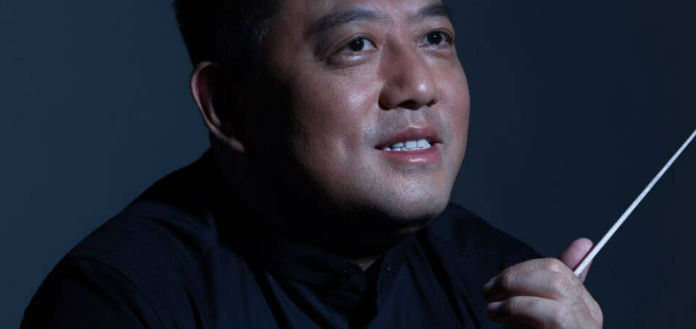 The Violin Channel recently caught up with China's National Centre for the Performing Arts Orchestra's Music Director, Maestro Lü Jia.
We sat him down to discuss his involvement with the NCPA Orchestra - and his mission for the ensemble's upcoming 6-city US tour:
Maestro, along with the China NCPA Orchestra, you are about to embark on a 6 city tour of the US, with performances in New York, San Francisco, Philadelphia, Chicago, Chapel Hill and Ann Arbor - what was the impetus for this tour?
"The short answer: the celebration of China's National Centre for the Performing Art's 10th anniversary. The NCPA is the center of Beijing and represents the backbone of the cultural life force of the city. While it is an architecturally breathtaking structure—and internationally acclaimed artists give it high praise—it is so much more than that. The Center has come to represent a synthesis of different cultures and art forms from around the globe. It represents a new vision for China's classical music and arts scene. The China NCPA is proud to call it our home.
The tour of the China NCPA, seen as one of the most prominent ensembles in China, goes beyond just a celebration of an anniversary. We are bringing China's new artistic vision, one that shines a light on the diversity and depth of Chinese music and musicians, to the US.  We are representing the new face of China's growing classical music and arts landscape. 
Through presenting three US premiers by two iconic Chinese composers, Chen Qigang and Jiping Zhao, and partnering with such internationally recognized arts organizations—the Philadelphia orchestra, San Francisco Symphony, Chicago Symphony and Carnegie Hall—we want to use to tour as a way to usher our partnerships and friendships with these great American institutions into a new decade."
Whilst compiling the repertoire, programs, artists and soloists for the tour what overarching ideas or themes were you hoping to communicate?
"Music is a universal language that transcends boundaries and cultures, and while it is natural that musicians from different corners of the world would have, in their music, both common things and distinctive colors, they are still able to speak the same langue through art.
By presenting works like Sibelius and Brahms, we are able to foster a sense of community to which we all belong. Yet, by juxtaposing these with the culturally distinctive elements of Chinese music, we will showcase, and perhaps introduce these same emotional and artistic values through a different language and style.
This is the beauty of this great orchestra, the China NCPA. Its flexibility in presenting iconic staples of the Western repertoire along-side new and exciting works by Chinese composers, is remarkable. We bring these programs and these artists to show the audiences of the US the best of modern China's classical music scene – not just the virtuosity, but also, and more importantly, their different ideas and aesthetics and their artistic inspirations and influence on the rest of the world."
During the tour, you will be premiering a number of new works by prominent Chinese composers - including new additions to the violin and cello virtuosi repertoire. Please tell us about these works?
"Yes indeed, we are very proud that we will be able to have 3 US premieres throughout this tour. 
Chen Qigang, as the last student of the great French composer Messiaen, is perhaps the most performed Chinese composer of our time. He is also the Artist-in-Residency at NCPA. On this tour, we are excited to perform two of his great works, both of which will receive its US premiere. 
Luan Tan, literally meaning chaotic music or random note in English, is perhaps is a new artistic peak of the composer. He spent almost 5 years to complete this 21 minutes piece of orchestral variations.  Reflection of a Vanished Time (Reflect d'un temp disparu), also by Chen Qigang, will feature the marvelous cellist from Paris, Gautier Capucon. The composer created the piece in 1999, and it was premiered with Yo-Yo Ma and Dutoit. Since then it has become one of the composer's signature works.
The third piece is by Jiping Zhao, a widely admired composer in China as well as the former Chairman of China's Musician Society. He is an excellent representative of China's national music, you might say he is the Dvorak of China. His music is full of beautiful melodies that he draws from China's folk music to reflect typical Chinese sentiments and emotions. His violin concerto is a perfect example of his artistic style."
How important to you is the idea of cultural exchange - bringing visibly for Chinese artists, performance crafts and traditional and new works to Western audiences? And vice versa.
"Cultural exchange is a two-way street. Human beings become greater when we all believe the world is not just about ourselves, but rather a community that involves people with different cultures and ideologies. We believe that we should reach out to other cultures and other people, trying to understand and respect each other. Music is such a perfect thing to do just this, and musicians are privileged to play the role of ambassador between different cultures. 
For an orchestra that embarks on an international tour, they are not just showing their musical virtuosities, they are serving as a bridge between different peoples, cultures, and ways of thinking. So yes, we are bringing more visibility to the Chinese artists, but we are also reaching out to a wider world and hopefully having a unique impact to the people living elsewhere. It is a cultural exchange that has equal cultural benefits between the NCPA and the audiences of the US."
What unique experiences are you hoping American audiences will take away from the NCPA Orchestra's performances over the coming weeks?
"First, the China NCPA, only created seven years ago, is truly the new generation of China's cultural ambassadors, representing all the artistic riches our country has to offer. They have a unique sense of passion, energy and creativity. That is also true for the great soloists and the pieces that they will be performing on tour. You will know, by our programs, how far this country has travelled in the past several decades and should be prepared to be amazed. 
Second, the sounds you will experiencing will be new and exciting. For some, the music may seem exotic and the ideology behind the sounds and phrases might be quite foreign and shocking. However, I invite audiences to go beyond themselves and reach out to a new land and new sound. To hear these concerts with fresh ears and ideas. To have critical thoughts, but to also embrace the newness as a way to share in a cultural exchange. I promise you will not be disappointed."
Catch Maestro Lu Jia and the NPCA Orchestra: Saturday 28th October - Chicago Symphony Center, Chicago | Monday 30th October - Carnegie Hall Stern Auditorium, New York | Wednesday 1st November - Verizon Hall, Kimmel Center, Philadelphia | Thursday 2nd November - The University of North Carolina, Chapel Hill Memorial Hall, Chapel Hill | Saturday 5th November - Davies Symphony Hall, San Francisco | Tuesday 7th November - University of Michigan, Hill Auditorium, Ann Arbor