Collector David Fulton Gives His Expert Advice on Buying and Selling an Instrument
His book, "The Fulton Collection — A Guided Tour," will make a great Christmas gift for fans of fine instruments and performers
A private collector of Cremonese instruments, David Fulton grew up playing the violin from an early age. His love of violins grew as he served as concertmaster of the University of Chicago Orchestra and then as a section violinist in the Hartford Symphony Orchestra. Throughout his career, he acquired an impressive instrument collection that was documented in his most recent book, "The Fulton Collection — A Guided Tour."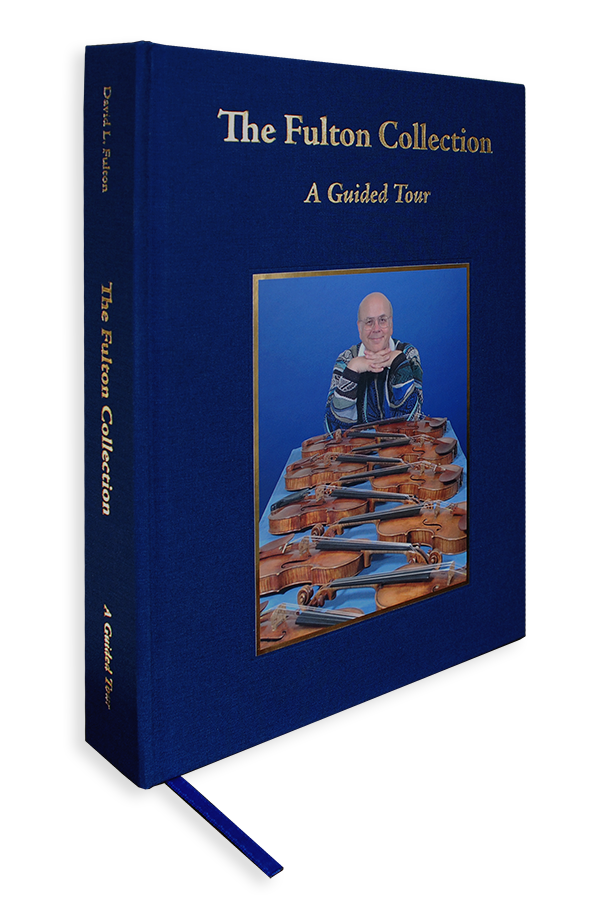 Full of musical anecdotes, historical context, insights on the craft of fine instrument-making, and autobiography, the book tells the tale of how Fulton went from tech entrepreneur to building one of the finest stringed instrument collections of the modern era.
Readers are taken into the world of Fulton's fiddles, chronologically ordered by the date on which he acquired each extraordinary instrument.
The Violin Channel had the chance to ask David's advice on selling, buying, and investing in an instrument.
If you had to give your best piece of advice when selling an instrument, what would that be?
I suppose it depends on whether you use it in practicing your profession. For example, if you happen to be a concert artist, then you need to have one of the great violins, you really do. It's not a qualitative judgment, it's just the fact that if you're going to be a concert artist, you must have the "official" sound.  That's the sound produced by great violins.
That said, I know a few concert artists nearing the end of their concert careers who are seeking to sell their beloved Strad or del Gesù, buy a fine lesser instrument for future performing, then use the resulting money to fund a comfortable retirement.
If you're a collector, once you are satiated with your collection, then I believe you should disperse it over time…  while you still have the wit and energy to do so.
If you're an orchestra musician with a fine violin, I think that when you're ready to stop playing in the orchestra is the time to sell your instrument and/or downgrade to a lesser instrument.
What would be your advice for purchasing a quality instrument?
It depends on your financial situation, but I think a quality instrument makes a huge difference. I'd get the best instrument you can.
One thing people overlook, I might add, is a great bow. If you had to choose between a great bow and a great instrument, a great bow can be a good financial compromise.
"A fine bow can make a huge difference on an average violin."
How do you ensure you're going to get the best price for it?
You have to be really opportunistic about that. You must also consider what's happening in the world and the state of the market.
An example, our last big collection sale was concluded on January 6th, 2020.  And then COVID hit.  At that point, no one could travel anywhere, and selling a fine violin became essentially impossible.
Since there are so few purchasers of fine instruments and most are international, I think the world situation can be a very significant factor.
For someone who's possibly looking to invest in an instrument, what would you advise to watch out for?
I feel that while violins are not bad investments, they are tricky investments.
First, you have to contend with violin dealers. You've heard the expression "fiddling the books"? That comes from the 1800s when violin dealers became a byword for false dealing. Some dealers are completely honest and reliable, some are in between, and some are out-and-out crooks.
Then, you must understand the market.  With the sort of instruments I was collecting, at any given point in time, there were no more than five or six parties in the world willing and able to buy them. It is a very, very small market. Great violins are not liquid investments and the returns are modest.
Another point that must be made is that rare instruments can be depressed in price for long periods of time. For example, the 1714 General Kyd Strad, which I owned and had been Perlman's violin, was purchased in 1927 for $50,000. It did not reach that price level again until the 1950s. Of course, the Great Depression intervened, but my point is that you cannot safely assume that violin values are always going up.
Another point to consider is that violins are fragile. If you ever have had the experience of holding the top of Strad (that's open for maintenance) in your hand, it feels as insubstantial as a potato chip.
"Violins require loving care."