GRAMMY Nominated Clarinetist Seunghee Lee and Bandoneonist JP Jofre
Their newest album, "Aspire," was recorded with the London Symphony Orchestra and conductor Enrico Fagone
Released this August by Musica Solis, "Aspire" features clarinetist Seunghee Lee and bandoneonist and composer JP Jofre, joined by the London Symphony Orchestra, conductor Enrico Fagone.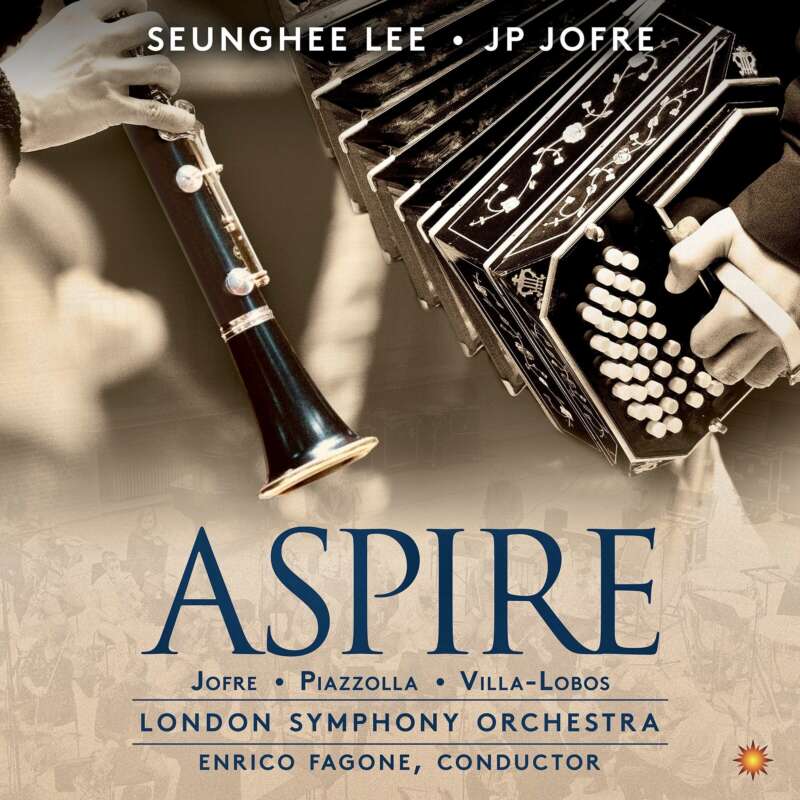 Recently nominated for a Grammy Award for "Best Classical Compendium," the album's centerpiece is the world premiere recording of Jofre's Double Concerto for Clarinet and Bandoneon, commissioned by and written expressly for Lee.
Five other original compositions by Jofre round out the program, along with the Aria (Cantilena) from Villa-Lobos's Bachianas Brasileiras No. 5 and an orchestral arrangement of Piazzolla's Tango Étude No. 3, also commissioned from Jofre by Lee.
The Violin Channel caught up with JP Jofre and Seunghee Lee on this recent collaboration, to gain some insights into the making of the album.
VC: Firstly, how does it feel to be nominated for a GRAMMY AWARD?!?! Congratulations!  
Seunghee: I'm incredibly honored and grateful to be recognized by the Recording Academy! The project has been in the works for over six years, and I am thrilled that it received this wonderful nomination.
Seunghee, how long have you known JP? When did you first hear his incredible music?
Seunghee: After first hearing JP perform in 2016 and listening to some of his compositions for the first time, I couldn't help but ask him if he's written anything for the clarinet. He told me about his piece called Primavera, which was first performed by Paquito D'Rivera. I loved it so much and so one afternoon we got together to read through more of his pieces (Sweet Dreams, Como el Agua, Tangodromo, etc) and got to love them all, and they are all included in the Aspire album.
JP, how did you go about the process of composing the concerto?
JP: To me, music has always been a way to connect with another reality, another vision, and an alternate approach to life. When composing, I look for this connection. It's a way of returning the favor — honoring the music and the great minds that other composers have given to us. For some reason, in my case when I was a kid, musical ideas came to my mind when I faced extreme experiences, of either joy or sadness. For example, when my parents got divorced, or when I found new friends in life, brotherhood, love, etc. Sometimes I wasn't able to express my feelings with words, but with new musical ideas, I could. This is only for the main melodic themes.
Then the process of "the form" and orchestration is a bit different. It's more like architectural work, where I spend a lot of time thinking about how can I build structures with new materials, and expand concepts. The balance in orchestration is something that fascinates me as well — it's like another art within the music. I thought a lot about Lee's performances, life, and personality as well since the concerto was dedicated to her.
Where did this idea for the collaboration between the clarinet and the bandoneon come from?
Seunghee: The idea for this collaboration was born out of my fascination with the reedy, organ-like sound quality of the bandoneon, which blends so well with the clarinet, especially on the high registers. After hearing JP's performances over time and growing into his unique style of compositions, I just had to follow my instincts to put together a whole album for clarinet and bandoneon. I was delighted to commission a Double Concerto for the Clarinet and Bandoneon, which is something that had never been done before for this combination. It felt like commissioning my own portrait painted in music.
For those that don't know, can you tell us about the bandoneon — its origin, soundscape, and range? What do you think makes the bandoneon and the clarinet meld so splendidly together?
JP: The bandoneon is a wind-keyboard instrument invented in Germany in the late 1800s that became extremely popular in Argentina, leading many people to believe it is an Argentine instrument. Notable performers such as Piazzolla, Troilo, Pane, and Federico, to name a few, developed the technique and created the bandoneon repertoire. The instrument is very related to the concertina; one theory is that it was invented to play religious music in poor churches that couldn't afford to have an organ. That is why when you play it in a church, it resembles the sound of an organ or harmonium.
The most beautiful thing to me is you can play harmonies and counterpoint, sustain long notes and create your own vibrato and dynamics — it is a very sensitive and expressive instrument. It has a big range, about six octaves. To make it more mysterious, every button/key plays 2 sounds, one sound when you open and another sound when you close, so we have to learn 4 keyboards in 2 keyboards. It's a lovely exercise for the mind as well. Not to mention it is easy to travel with (lol).
Alongside the clarinet, the combination of wood and metal blends incredibly well.
What do you hope listeners will take away with them when listening to the album?
Seunghee: Through the Aspire album, I hope listeners will have gained a new level of appreciation for the clarinet and bandoneon and their unique combination of sounds. I also hope that we as a society keep pushing for innovation and embrace the limitlessness of human creativity and not be afraid to take on projects that are unconventional.
How did you find the process of working with conductor Enrico Fagone and the London Symphony?
JP: Working with Enrico Fagone was a beautiful experience, we had so much fun recording. In addition to being a world-class artist, he is a very dear friend. And what can I say about the London Symphony Orchestra? They are one of the best orchestras in the world. They made us feel at home, too. The same goes for producer Jonathan Allen, a dream team.
Why do you feel it's important to constantly keep experimenting, adding new repertoire, and expanding boundaries within classical music? 
Seunghee: I feel that it is important for the future of classical music to work with living composers. Their creativity and brilliance should be lifted up and promoted. Classical clarinet repertoire includes some of the most beloved masterpieces written by great masters of classical music (Mozart, Weber, Brahms) for some of the most famous clarinetists of their time (Anton Stadler, Heinrich Bärmann, Richard Mühlfeld). Over time, American composers like Artie Shaw, Copland, and Gershwin also wrote for this instrument, highlighting the jazzy, Benny Goodman style.
The Aspire album showcases works by Latin American composers. The styles of writing from that part of the world have a way of speaking and touching the heart to tell a story. The deep resonating sound of the clarinet is a great match for expression and for bringing out more of the feminine qualities of the clarinet sound. My favorite moment in JP's Double Concerto is in the Second Movement. It starts in a simple yet nostalgic way and develops into a full, magical scene straight out of a movie.
What do you think will be the first words that come to mind if your name is called at the Grammy awards?
JP: Gratitude. Whether we win or not. I know what we have accomplished. We have created something new for generations to come. That's my biggest award as an artist.