VC INTERVIEW | German-Korean Violinist Christian Kim – The 'Erl' King of Cool
VC recently caught up with violinist Christian Kim, where we shot the breeze about his diverse international upbringing, his amazing new Youtube film - and life as voted one of the sexiest men in America
The Violin Channel recently caught up with German-Korean violinist Christian Kim, in Frankfurt, where we shot the breeze over a few beers about his diverse international upbringing, his amazing new Youtube film, which has set the classical world abuzz - and life as voted one of the sexiest men in America.
CHRISTIAN KIM | SCHUBERT | DER ERLKÖNIG (ARR. HEINRICH WILHELM ERNST) | 2014
Hi Christian. Thanks for joining us here on the Channel. Tell us a little about yourself.
"Thanks so much. I have followed the Channel for many years. Love your work, VC.

My mother is a Korean pianist and my father is a German scientist. I was born in Boston but I spent my formative years in Germany - studying pre-college and undergraduate with Valery Klimov at the University of Music, in Saarbrücken and with Josef Rissin at the University of Music, in Kalrsruhe.

In 2013 I graduated from my post graduate studies at Yale - where I worked with Hyo Kang.

More recently I have been living in New York City - and working with the amazing Sejong Soloists string ensemble."
The Karlsruhe University of Music has incredible alumni - including yourself, VC 'Young Artists' Sergey Khachatryan & Benedict Klockner, Leonidas Kavakos (for a little while), Noe Inui, Koh Gabriel Kameda and Albrecht Breuninger. Tell us about your time studying with Soviet legends Valery Klimov and Josef Rissin.
"I studied with Mr Klimov from age 12 until his retirement when I was 15. A student of David Oistrakh, he was the inaugural winner of the Tchaikovsky Competition and is one of the last from the golden period of Soviet Russian virtuosos. As a young teenager, I was mesmerised by his aura as an artist, a teacher and as a man - he was my inspiration for wanting to become a musician.

I studied with Professor Josef Rissin for 9 years until my graduation, in 2010. He is not only a brilliant violin virtuoso, but a true pedagogical genius - with an extremely radical approach to musicality and technique.

During my time in Karlsruhe I was very fortunate to receive prizes at the 'Concorso Musicale Europeo Torino', 'Concours Européen pour Jeunes Solistes Luxembourg' and the Kocian International Violin Competition."
You then went on to complete two years of post graduate study at Yale University, with Hyo Kang - whose famed students, of course, included Gil Shaham, Sarah Chang and VC 'Young Artist' Paul Huang. Tell us about this experience.
"My time with Professor Kang was incredible. After 12 years of studying in the strict Russian traditions, I felt he was able to really set my playing free. He encouraged me to go after my own ideas - guiding me to my own solutions.

I really love working with him."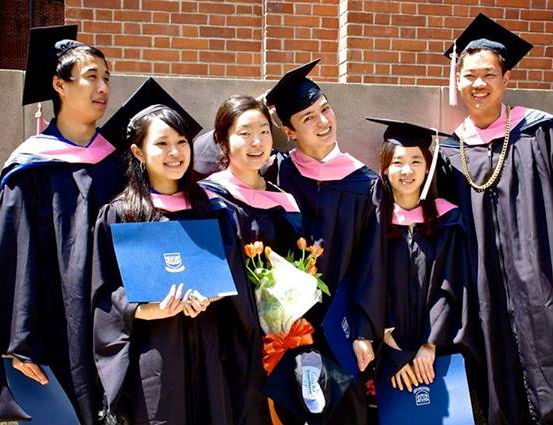 A HAPPY CHRISTIAN KIM, WITH YALE UNIVERSITY CLASSMATES CORY LEE, HSUAN-FONG CHEN, HYE-JIN KOH, EUNYOUNG JUNG & STEVEN CHANG
You've had an extremely international upbringing - American born, German-raised, Korean heritage and Soviet/American schooling. Which nationality do you feel you identify with most?
"That's a tough question - I would say I am a product of my diversity. That said, I have always felt a strong infinity with South Korea - so perhaps that is where my heart lies."
You have recently created and released a stunning YouTube film of Ernst's arrangement of Schubert's "Der Erlkönig" for solo violin. It is really beautiful playing and cinematography, Christian. Tell us about how this project came to light.
"When you chat with friends and colleagues, the heated discussion about the future of classical music always seems to arise - and there is no denying that we face challenges.

But in order to think about new alternative ways of presenting classical music, I've always thought it was important to determine our own value as classical musicians first. For me, those core values are staying true to the composition and striving for the highest quality, without compromise.

With that in mind, I started thinking about possible projects that I would enjoy both as a performer, and as a viewer.

The idea for the film was for the visuals to tie to the dramatic story of Goethe's poem and Schubert's arrangement - with the tree symbolising 'the father' and the castle ruins representing the spirit of the 'Erlkönig'."
We think you nailed it - it's breathtaking. Where was this filmed?
"The video was shot at the 13th Century castle ruins, in the Palatinate, Germany. I was extremely lucky to have an ideal partner for the project - my brother Benjamin, who is a successful videographer and a fine cellist.

It was shot over 2 days at the break of dawn - as we needed to avoid the tourists."
Are there any plans to create more films?
"Definitely. I'd welcome suggestions from the Channel."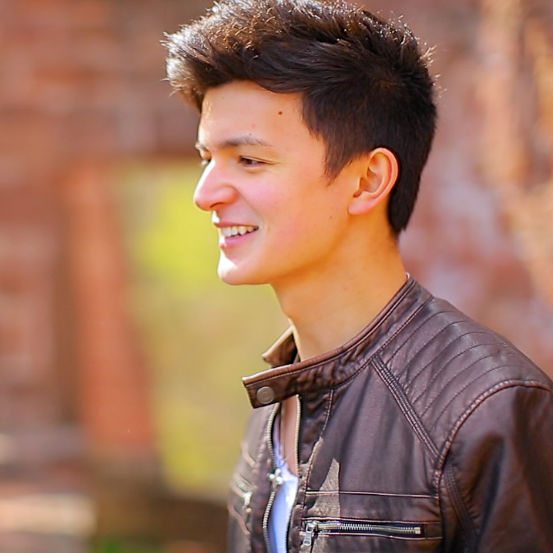 CHRISTIAN KIM ON SET AT HOHENECKEN CASTLE, IN GERMANY FOR THE FILMING OF 'DER ERLKÖNIG'
Now a little birdie tells us, Christian, you were once voted the most eligible bachelor in all of Connecticut - and competed in the US national final.
[laughs] "Nothing ever gets past The Violin Channel!

Yes. A friend entered me in the Cosmopolitan Magazine's 'Bachelor of the Year' competition. It will be a funny story I will be able to tell when I'm old and grey, I guess."
And finally Christian, before we hand you over to the Channel, we know you are a real student of the art, tell us what your dream recording or concert project would be?
"My dream performance would be to perform Shostakovich's 1st Violin Concerto - with Maestro Kiril Kondrashin conducting the Moscow Philharmonic Orchestra, from the 1960s. I'm getting tingles thinking about it."
Thank you so much Christian for joining us, and congratulations on the release of your beautiful Youtube film.
Here are a few questions from your fans on the Channel.
Lucy Tang, from Hong Kong would like to know what is usually running through your head when you a perform a work as technically demanding and historically significant as Ernst's "Der Erlkönig" arrangement?
"Hi Lucy. It's really a balancing act between trying to stay in absolute technical control and staying true to the song. I usually sing the lyrics in my head, actually - as for me that is where I feel the horror and drama emanates from."
Samuel Bin would like to know what instrument you currently perform on?
"For a number of years I have had the good fortune of performing on the 1703 'Ex-Schubert' Guarneri - from the German Rhinland-Palatinate State Collection. For this outdoor project I used my modern 2008 'Domenico Fantin' instrument."
Sarah Sanchez, from the UK would like to know if there is a Mrs Kim in your life? Besides your mother of course.
"Hi Sarah. No, I'm not seeing anyone."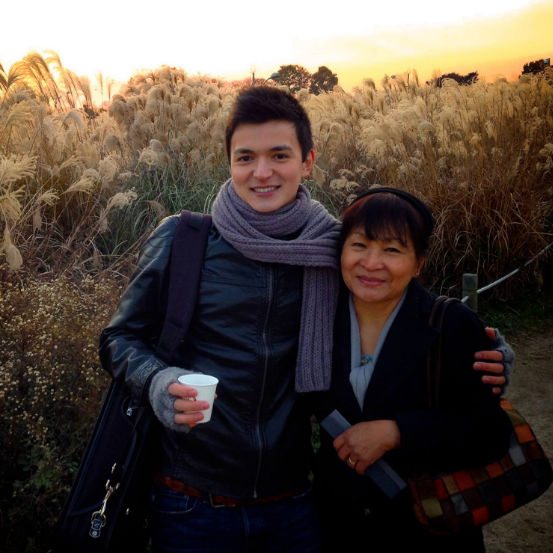 CHRISTIAN KIM WITH HIS MOTHER, KOREAN PIANIST JAEMIE SITZMANN
And finally Christian, John Ho from twitter would like to know about your exercise routine and how you stay in such great shape.
"I actually don't have a very strict exercise routine. Depending on my schedule, I can often go weeks without working out. Maybe you can direct this question to my gym buddy Igor Pikayzen, VC. He's the hulk - he benches way more than me!"