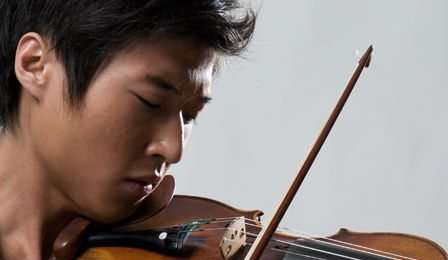 The Juilliard School graduate, Charles Yang is very quickly building an impressive online following - and explosive, international classical-pop violin/vocal career.
[video_lightbox_youtube video_id="tHCZRLZ2DmU" width="590" height="385" auto_thumb="1"]
CHARLES YANG | GARNLS BARKLEY | CRAZY (ARR. VIOLIN & VOCALS)
A student of respected pedagogues Paul Kantor, Brian Lewis and Glenn Dicterow,  the American YouTube sensation, alongside his blossoming classical career, arranges, sings, performs, records, edits and produces his own guerrilla-style violin/vocal covers.
He was recently described by The Boston Globe as 'classical violin with the charisma of a rock star'
[video_lightbox_youtube video_id="lvFB4QY1qgM" width="590" height="385" auto_thumb="1"]
CHARLES YANG | THE EAGLES | HOTEL CALIFORNIA (ARR. VIOLIN & VOCALS)
[video_lightbox_youtube video_id="ZR9o_zjioXw" width="590" height="385" auto_thumb="1"]
CHARLES YANG | BOB DYLAN | MAKE YOU FEEL MY LOVE (ARR. VIOLIN & VOCALS)
[video_lightbox_youtube video_id="U7Vmr6WWeV8" width="590" height="385" auto_thumb="1"]
CHARLES YANG | MICHAEL JACKSON | BILLIE JEAN (ARR. VIOLIN & VOCALS)
[video_lightbox_youtube video_id="phw0cJLwNjM" width="590" height="385" auto_thumb="1"]
CHARLES YANG | QUEEN | BOHEMIAN RHAPSODY (ARR. VIOLIN & VOCALS)
[video_lightbox_youtube video_id="F7Z-GPwyjOk" width="590" height="385" auto_thumb="1"]
CHARLES YANG | MOTION FOR SOLO VIOLIN | ORIGINAL COMPOSITION
[video_lightbox_youtube video_id="_326YXlDNT8" width="590" height="385" auto_thumb="1"]
CHARLES YANG & MICHAEL THURBER | VAN MORRISON | BROWN EYED GIRL | RECORDING A SONG IN A MOVING VEHICLE
[video_lightbox_youtube video_id="lgLrZDdC3Qs" width="590" height="385" auto_thumb="1"]
CHARLES YANG | VITALI | CHACONNE IN G MINOR | FROM THE TOP