James Wilson on Running a Conductor-less Orchestra
Orpheus Chamber Orchestra Co-Artistic Director and cellist James Wilson takes us into the inner workings of the famed conductor-less ensemble
Many ensembles depend on the expertise of the conductor to provide the direction needed to lead, but for Orpheus Chamber Orchestra, the ensemble depends on each and every member to initiate, interpret, and perform. The trust, musical kinship, and synergy of every single musician on stage that is required places greater responsibility on each member but serves as a powerful teaching tool in great ensemble playing, similar to the sensitivity and awareness needed in chamber music.
The Violin Channel recently caught up with Orpheus Chamber Orchestra Co-Artistic Director and cellist James Wilson in New York City.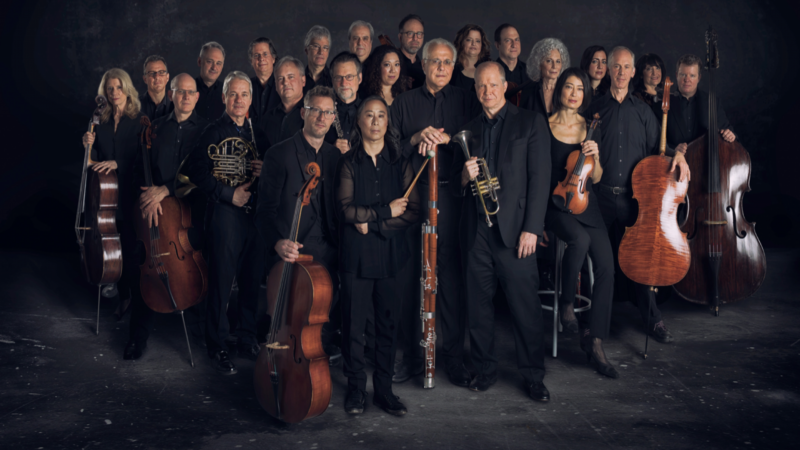 Orpheus Chamber Orchestra Artistic Director Cellist James Wilson Shares the Ins and Outs of this Conductor-less Ensemble
Hello Violin Channel fans. Welcome to this weekend of all things Orpheus.
 
Orpheus Chamber Orchestra was formed in 1972 based on the concept that all musical ideas and inspiration should come from within the players themselves. This vision of an orchestra treating symphonic literature as chamber music, rehearsing democratically and making music without a conductor, was a crazy, revolutionary idea at that time. As you know here in 2019, this concept is now common practice for a lot of professional groups and is used in educational settings as a powerful teaching tool.
But how do we do it? What methods do we have so all this individual involvement and passion doesn't result in an all-out wrestling match both in rehearsal and on stage? 
To answer some of your questions, here's an Orpheus primer.
 
Terms 
There are several specific terms we use in Orpheus to talk about rehearsals and group culture. We want to explain these terms to give you a clearer sense of our rehearsal and coaching process. 
 
Equality 
In the Orpheus model, everyone's points are valid. We try to understand what each of our colleagues hears in the music and understand that it is important. Of course, not every interpretation can be included in a piece of music - depending on the decisions of the Core (see below) and the group census, most points of view will not end up baked into the final product. Nonetheless, hearing a variety of opinions is tantamount to the Orpheus aesthetic. 
 
The "Orpheus Process" 
The Orpheus Process is a rehearsal method, honed over the nearly 50-year history of the group, that enables the group to rehearse efficiently and stay true to our democratic principles. This method uses the following concepts of organization and communication integral to this process. 
 
Core 
One of the first things you will notice if you see us perform is that we employ a rotating leadership model. There will be different people sitting in the leadership chairs for each work on the program. The leaders of each section for any given work are collectively referred to as "The Core" and they will have primary responsibility for overseeing the preparation and creating an artistic vision for the piece.  
 
Oftentimes, the Core rehearses in advance of the first rehearsal with the whole group. In this rehearsal basic concepts like tempo and character are discussed. If time allows, bowings, articulations and other details are worked on. This is the first step in the rehearsal process and help lay a groundwork for the artistic decisions to come.  
 
It is the Core's responsibility to communicate its concepts to the rest of the group. The Core can (and should) weigh in anytime during the rest of the rehearsal process to help keep the process efficient and focused. 
 
The Concertmaster 
Like most orchestras, Orpheus names the first-chair first violin as the "concertmaster." In many orchestras that use the conductorless model, the concertmaster takes the role of the conductor. In Orpheus' model the concertmaster does not fully craft the artistic vision of a piece of music but is the important first point of contact for visual cues and for verbal communication as the rehearsal goes on. In cases of stalemate, where the rehearsal might get stuck, the concertmaster makes final decisions or decides to move on or table the discussion. 
 
Listeners 
During the Orpheus Process, individual musicians are encouraged to vacate their chairs, put their instruments down and listen to the group impartially from the outside (from the audience's position). This gives a unique and objective perspective on balance, articulation, and really helps decide what works and what doesn't.  
Often it is an advantage that a player hears a work from a specific perspective. A cellist or a bass player might be more likely to notice and want to highlight an important harmonic shift, and a violinist or oboe player might be more likely to notice a subtle shift in the shape of a melody. While these perspectives are all good, there is no substitute for the perspective of the truly impartial listener, the one who is listening from the vantage point of the audience.  
It's often amazing how dramatically different the orchestra sounds from out in front, compared with how it sounds inside the orchestra. It's also interesting how quickly one's concerns change, how quickly the improvements one wanted to make seem unimportant compared to the much larger problems the listeners hear.  
It is important that there be a designated listener (DL) for almost every minute of every rehearsal, with the possible exception of the very first read-through. It is also important for the DL to exercise care in his/her comments (see the Criticism and Etiquette section below) and it is important that the Core and the rest of the orchestra learn to trust the perspective of the DL. 
 
Preparation 
As you might imagine preparation is key to this model of music-making. We all show up to the first rehearsal with our parts prepared, having looked through the score, and with some sense of what decisions we might make to make the music sound its best.  
 
Score preparation 
A big part of prepping for our rehearsals involves score reading and listening to recordings.  
 
Score reading is not as hard as it might at first seem, especially a chamber orchestra score. The score is often like an abstract painting: first you see everything and nothing jumps out. Then after you spend a few minutes with it, you start to recognize patterns and areas, and shades of light and dark. Our responsibility is to find the thread that will lead the audience through the entire work, hold their interest and tell them a story. Often that starts with finding the "melody" and making sure you understand who has it at any given moment. As soon as that is clear in your mind, though, we need to understand the textures that support that melody, and we need to have an idea of why those particular textures were chosen by the composer. What is the character of this music, what is the composer trying to convey, and how can we maximize that particular thing? What does he/she mean in the choice of that particular expressive word, that particular articulation, or that particular rhythmic accompaniment? And how is it different from other places within the same work? 
Listening 
We take advantage of technology and history by listening to recordings of the pieces we will be playing – not only our own recordings, but to all performances that speak to us. We don't discount recordings we do not like or agree with. It's important that we all formulate what makes a recording attractive and meaningful, but ALSO what makes one unattractive. We try to articulate to ourselves why we have these opinions. After all, everyone in the group will probably have to articulate our viewpoints to 31 of our peers in a public setting.
Communication skills 
Listening (again!)
First of all, we need to listen while playing and while discussing the music: 
To each other when we are playing, to carefully match strokes, to blend sound, to feature solo lines. 
To each other's comments, so that we can try to understand what each of our colleagues hears in the music. 
As the Designated Listener, listening to the whole orchestra from out in front, unencumbered and influenced by our own instrument and our own part.
Listening is a cornerstone of mutual respect and civil discourse, and the Orpheus process. 
  
Mutual Respect
We are all members or guests of Orpheus because we are excellent musicians and excellent instrumentalists. While we may have strengths in different areas, we all bring something to the table. Those of us who are less outspoken may be more thoughtful. Some may be more concerned about instrumental color, some with musical character, some with articulation or tempo or energy or intonation. Whatever it is, it is an interest and a strength that will add to the whole. We are all respectful of our colleagues and really listen to what they are trying to say. It is our individual responsibility to treat every other member as an important colleague so that they are free to do and be their best, and so that they will feel compelled to do the same for you.  
Criticism and Etiquette
In the Orpheus model we are all colleagues; comments and suggestions should flow freely in all directions. For instance, those in positions of responsibility (the Core) for one piece will rotate and be in the position of be trying to get their ideas heard by others in another work. It is important to remember that what goes around comes around, that others will tend to treat you the way they have been treated by you.  
 
How we make comments and suggestions is at least as important as what we say. One technique we use is to try to start with a compliment – for instance what you like about what you just heard. Then we can ask for something more or slightly different, using words like:  
Would you be willing to consider…  
How would you feel about trying…  
 
When discussing things that are not together or not perfectly matched, sometimes it's best to be impartial:  
"From where I'm sitting, it sounds like either the horns are ahead or the violins are behind."  
"It sounds to me like the seconds are playing a little longer, or the violas a little shorter."  
We all try to convey valuable information about the nature of the discrepancy without taking sides about who is "wrong" or "right."  
We also try to talk about our own perspectives without pointing fingers. There is an enormous difference between  
"I feel that this tempo is a little too slow,"  
and "Your tempo is a little too slow."  
One describes a reaction to hearing a tempo, while the other is an accusation.  Perhaps even better might be,
"I wish that this tempo could be a little bit faster."  
Often it is helpful to include ourselves or our sections in the criticism. For instance, let's imagine that the violas and cellos have a line together, with different notes but the same rhythms and articulations, and you, as a violist, feel that the cellos are playing the notes too long. Try saying,
"I think we're a little too heavy on these eight notes, let's try playing them a little shorter."
In phrasing it this way you appear to be criticizing yourself as well, not pointing fingers at others, but meanwhile you have drawn attention to the detail that you want everyone to notice. 
Collective Inspiration
In Orpheus we are all aware that in every way our colleagues are counting on each other. A concert will happen no matter what, but we don't want it to just happen, we want it to be a happening, an event, something memorable. In order for the concert to be great each and every member of the orchestra has to take some personal responsibility for more than just the parts we are playing – we are all part of the whole.
We embrace the fact that our colleagues are depending on each other to identify and articulate the moments in the performance that could be more special, more dramatic, more uplifting, more depressing, more ecstatic, or perhaps just more in tune and more together. In order for the performance to be special we have to find a way to challenge and inspire each other. 
We at Orpheus find our shared experience as compelling, challenging and rewarding as we hope you find the music. Aside from the satisfaction of playing together – being in tune, in synch and balanced correctly – the ultimate rewards of this process and of being involved in the group are big. With every project we are shaping our skills of communication and leadership, to empower ourselves and everyone around us to be their best. 
All Best Wishes and Be Well! 
 
-James, Orpheus Chamber Orchestra
Do you have an idea for a blog or news tip? Simply email: [email protected]
The Grammy Award-winning Orpheus Chamber Orchestra has recorded over 70 albums on all major classical labels, toured to 46 countries across four continents, and collaborated with hundreds of world-class soloists.
Formed in 1972, Orpheus' 34 member musicians work together as a collective and rotate leadership roles for all works performed, giving flight to unconventional interpretations. 
Orpheus presents an annual series at Carnegie Hall, tours major international venues, and has appeared regularly in Japan for 30 years, with recent engagements at the Prague Spring and Dresden Music Festivals and a 12-concert tour of Asia.