Birmingham Conservatoire Announce New Appointment to Cello Teaching Faculty
The Birmingham Conservatoire has announced the appointment of British cellist Ben Davies to their string department teaching faculty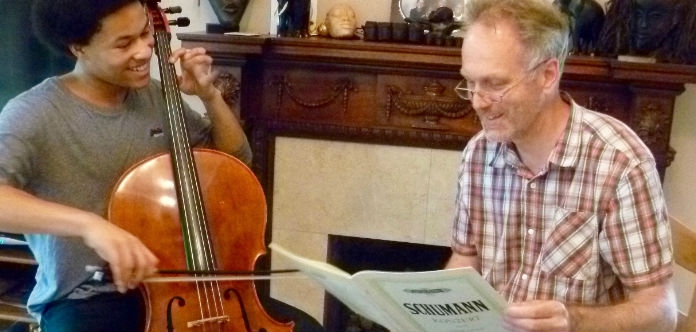 The Birmingham Conservatoire has today announced the appointment of British cellist Ben Davies to their string department teaching faculty.
'I am honoured to be invited by Conservatoire Principal Julian Lloyd Webber to join the cello department,' Davies has said.
'I very much look forward to working with the cello students … and am excited to be involved with the musical life of the Conservatoire,' he has said.
Mr Davies was a former member of the Rosell String Quartet - and has served teaching positions on faculty at London's Royal Academy of Music and Guildhall School of Music.
His famed students include cellist, VC Young Artist Sheku Kenneh-Mason.
Earlier this month it was announced Chinese cellist Jian Wang will also join the Birmingham teaching faculty - as the new International Chair of Cello.
PICTURE: Cello Pedagogue Ben Davies - with protege, 18 year old VC Young Artist Sheku Kenneh-Mason