Prizes Awarded at Australian National Youth Concerto Competition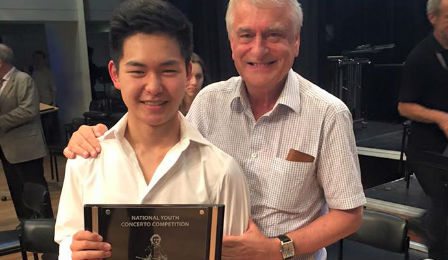 16 year old Jimmy Park, from Sydney has been awarded 1st prize at the 2015 Australian National Youth Concerto Competition – in Brisbane, Australia.
The Australian NYCC is widely regarded as the most significant development prize for Australian string soloists 17 years and younger - with previous winners including VC 'Artists' Ray Chen, Suyeon Kang and Grace Clifford.
JIMMY PARK | LALO | SYMPHONIE ESPAGNOLE | 2015 AUSTRALIAN NATIONAL YOUTH CONCERTO COMPETITION
A student of Professor Ole Bohn, at the Sydney Conservatorium of Music 'Rising Stars' Programme, Jimmy will receive AUD $3,000.
The judges also commended finalists Oscar Han and Yebin Yoo on the outstanding level of performance this year.
PICTURED: 2015 AUSTRALIAN NYCC 1ST PRIZE WINNER, JIMMY PARK - WITH TEACHER, PROFESSOR OLE BOHN