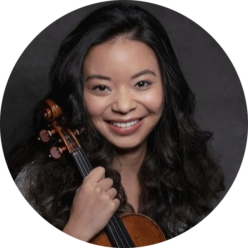 American violinist Sirena Huang is rapidly building an international reputation as a young string virtuoso of outstanding potential - praised for her "impeccable technique, deeply expressive phrasing, and poetic weight."
A graduate of the Juilliard School, where she studied with Itzhak Perlman and Sylvia Rosenberg, Sirena is the Gold Medalist of the 11th Quadrennial International Violin Competition of Indianapolis — where she was also awarded eight of the eleven special prizes.
In 2017, she was awarded First Prize at the Elmar Oliveira International Violin Competition, and later that year, she was the winner of the New York Concert Artist Worldwide Debut Audition. She was also the First Prize Gold Medalist at the 6th International Tchaikovsky Competition for Young Musicians, as well as a top prize winner at Singapore International Violin Competition and the Shanghai Isaac Stern International Violin Competition.
She has been featured as a soloist with more than fifty prestigious ensembles, including the New York Philharmonic, the Symphony Orchestras of Cleveland, Baltimore, Shanghai, Russia, and Singapore, and the Staatskapelle Weimar in Germany. She has appeared as a guest artist at the Verbier Music Festival, Ravinia Music Festival, Aspen Music Festival, Eastern Music Festival, Sarasota Arts Series, Albuquerque Chamber Music Festival, "The Great Music for a Great City" series in New York City, and many others.
What is a song that makes you turn the radio up?
It's hard to pick one piece/song! I love a wide range of music--from Bach to Glass Animals, and everything in between.
Do you keep all 3 meals phone free? No social media scrolling.
Not always for all 3 meals but at least one meal per day!

Born On May 18, 1994

Born in United States

United States


Education
The Juilliard School and Yale School of Music

Teachers
Itzhak Perlman, Sylvia Rosenberg, Stephen Clapp, and Hyo Kang

Notable awards/competitions won
Gold Medalist of the 11th Quadrennial International Violin Competition of Indianapolis, First Prize at the 2017 Elmar Oliveira International Violin Competition, winner of the 2017 New York Concert Artist Worldwide Debut Audition, First Prize Gold Medalist at the 6th International Tchaikovsky Competition for Young Musicians, top prize winner at Singapore International Violin Competition and Shanghai Isaac Stern International Violin Competition, First Prize at the 2011 Cooper International Competition in 2011, 2013 Hannloser Prize for Violin at the Verbier Music Festival