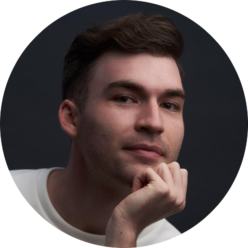 American violinist, Alexi Kenney,  praised by critics for his musical flexibility, personal style, and insightful and artistic interpretations, has an exciting season filled with solo and chamber music concerts as well as his Vanguard Concerts debut.
"A Creative and Groundbreaking Advocate with a Powerful Presence"
- The Violin Channel
A graduate of the New England Conservatory, where he studied with Miriam Fried and Donald Weilerstein, Alexi was awarded a 2020 Borletti-Buitoni Trust Award and a prestigious 2016 Avery Fisher Career Grant. He is a former prize winner at the Concert Artists Guild Victor Elmaleh Competition and the 2012 Menuhin Competition. Alexi is a member of The Bowers Program at the Chamber Music Society of Lincoln Center.
In April 2021, Alexi released his first recording, Paul Wiancko's X Suite for Solo Violin, accompanied by a visual album that pairs each of the seven movements of X Suite with seven contemporary sculptures from the Donum Estate in Sonoma, California.
His recent solo engagements include performances with the Detroit Symphony, St. Paul Chamber Orchestra, Indianapolis Symphony, Sarasota Orchestra, Orchestre de Chambre de Lausanne, and in a play-conduct role as guest leader of both the Mahler Chamber Orchestra and the Pittsburgh Symphony.
What is something your generation does that you hate?
Promoting shallowness, materialism, and unattainable lifestyles. Not that I don't love the occasional expensive material thing myself, but I feel that there's a lack of critical thinking and subtext--on social media, we never get to see someone's mundane life beyond their visible persona, which I think a lot of people see and want to aspire to. It concerns me to see people aim for perfection rather than meaning and depth. Same goes for music as well!
Who would you nominate to have their own reality tv show?
Martha Argerich? The Kardashian of our field (who's not Kim Kashkashian). There would be ample drama.
What is something that has sparked joy for you in the past year?
Reconnecting with the 'why' of what I do--during the pandemic, I had doubts that playing the violin was what I actually wanted to do. It was by reflecting, and remembering those who told me over the years how much what I do meant to them, that I was able to recommit to it and rekindle the love and spark that I'd lost. I've also been deeply inspired being back in New York these past few months. I love that people live their lives fully here, and it's always fascinating and humbling to share space with people from so many walks of life.
What are some challenges you have faced during your study of classical music?
So many. From self-doubt, to crippling anxiety and nerves, verbal abuse from authority figures, uncountable rejections, feeling personally misaligned with the business aspect of the classical music world, feeling guilty for having engagements when I didn't feel like I had anything to say, extreme loneliness on the road, existential questioning of "why does this matter?"...and yet, at the same time, I feel deeply privileged to have the opportunity to express through the medium of music. A lot of challenges I've faced have been internal, me battling with myself, however many have been external and societal, and I hope to see our little slice of the world start making some changes for the better. Let's all support each other and embrace difference and change, rather than cling onto our viewpoints and perspectives!
Which industry figure inspires you most? Why?
I love those who are constantly evolving, searching for new ways to exist in the field, and do so with extraordinary ability and heart. I love and respect so many classical musicians, but am maybe most inspired by songwriters, artists, thinkers, poets, painters outside of classical music.

Born On January 18, 1994

Born in United States

United States

Violin Stefan-Peter Greiner, 2009
Bow Francois-Nicolas Voirin | Benoit Rolland

Education
New England Conservatory

Teachers
Miriam Fried | Donald Weilerstein

Notable awards/competitions won
2020 Borletti-Buitoni Trust Award | 2016 Avery Fisher Career Grant | Concert Artists Guild Victor Elmaleh Competition Winner | 2012 Menuhin Competition First Prize Winner | Bowers Program at the Chamber Music Society of Lincoln Center