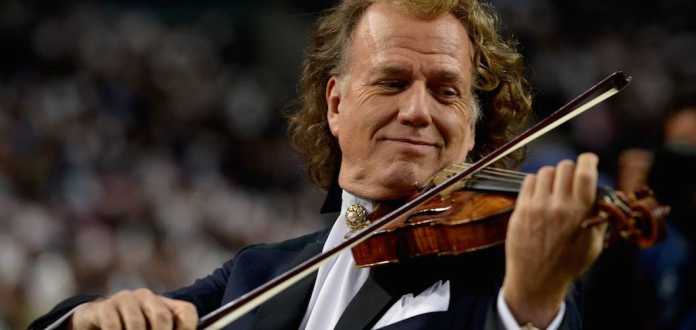 The Violin Channel recently caught up with Dutch violinist and Johann Strauss Orchestra founder, André Rieu, in Maastricht, Holland - as he was busily making final preparations for the broadcast of his 2015 Maastricht Concert Summer Series, to over 200 cinemas across the United States.
Maestro, you were a student of famed pedagogue Herman Krebbers - please tell us about your classical music upbringing?
"Yes, Herman Krebbers was my biggest example, when I study I often think of him. I already started playing the violin when I was five years old. My father was a symphonic conductor and music director of the Limburg Sinfonie Orkest. I grew up with Mozart, Beethoven, Bartok – not the Beatles or Rolling Stones. There was only classical music in our house. At the Brussels conservatory at age 24 I got accepted in André Gertler's violin class. He was famous all over the world. He had students from 20 different nations in his class, very strict but a fantastic teacher. I learned a lot from him"
What was your inspiration and vision for starting the Strauss Orchestra?
"I played the violin in my father's orchestra but did not like the stiff atmosphere of these classical concerts. I was bored and felt lonely. Everyone was dressed in black, all those beautiful women looked like nuns, and everyone was completely serious. Why? Also I wanted to choose my own repertoire, play the music of Johann Strauss. I am involved in all aspects of our productions, from costumes to the design of the stage, to the choice of program and creation of DVDs and CDs. So are my wife and my son. We are a family business and that's wonderful. I am free to do whatever I want. And freedom is very important to me"
On the 20th of this month, you will be screening your 2015 Maastricht concert to over 200 cinemas in the USA. How did this come to fruition? What was your vision?
"It's been a dream of mine to be able to share our concerts with the rest of the world and so many fans that are not able to travel this far and join us in Maastricht. So now, with the help of CinemaLive, we come to them, that's great. Arts, theatre and concerts in cinemas have become more and more popular over the years and it's a fantastic opportunity to reach new audiences"
What's the side of you that the public never sees?
"Haha, I am very open and share a lot with the public, but there are some aspects of my life I prefer to keep private, of course. I very often spend my free time at home playing with my grandchildren, cooking or just reading. But without cameras and photographers"
Why have you succeeded in a field that so many others have failed?
"I think it has been a mix of passion, hard work, dedication, love and luck. I had a dream and worked hard for it. I think I have a good feeling for what will touch my audience's hearts – and the secret is really quite simple: If a melody touches me, it will touch my audience as well"
What was the first piece of music you ever fell in love with?
"Johann Strauss, By the Beautiful Blue Danube"
What's your favorite recording by another artist?
"Franco Zeffirelli's La traviata film with Teresa Stratas and Plácido Domingo"
André Rieu's 2015 Maastricht Concert will be shown in cinemas across the US on Tuesday October 20 only. Click here find your local participating cinema via Fathom Events: www.fathomevents.com/event/andre-rieu