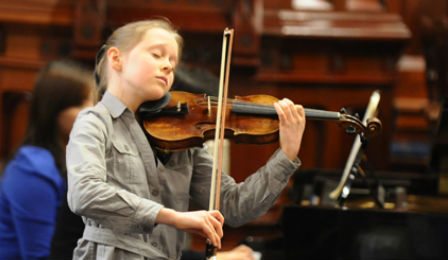 The 12 finalists for the 2014 Australian 'Young Performer of the Year' Awards have been announced – including 6 violinists - and 15 year old VC 'Rising Star' Grace Clifford.
The 2014 finalists are: VC 'Young Artist' Grace Clifford (Violin), Andrew Kawai (Oboe), Anna Da Silva Chen (Violin), Anne-Marie Johnson (Violin), Catherine Gregory (Flute), David Soo (Piano) Glenn Christensen, (Violin), James Jae-Won Moon (Piano), Kiran Phatak (Flute), Michael Li (Piano), Sujin Park (Violin) and Zoe Freisberg (Violin).
[video_lightbox_youtube video_id="EgViR7TWqO0" width="590" height="385" auto_thumb="1"]Grace Clifford | Saint-Saens | Havanaise | 2012 Menuhin Competition | Aged 13 | 4th Prize
Regarded as Australia's most prestigious classical music prize for instrumentalist 30 years and younger – previous winners include international string soloists: Adele Anthony, Liwei Qin, Ji Won Kim and VC 'Young Artist' Suyeon Kang.
The finals will take place in Adelaide, in three stages over 10 days from August 19th to 28th, 2014.
The 'Young Performer of the Year' will receive AUD $25,000, a CD recording and a number of important, domestic solo engagements.