2022 Zhuhai International Mozart Competition Announces Second Round Participants
The Second Round will be help from September 17—19. The Final Round will be streamed live here on The Violin Channel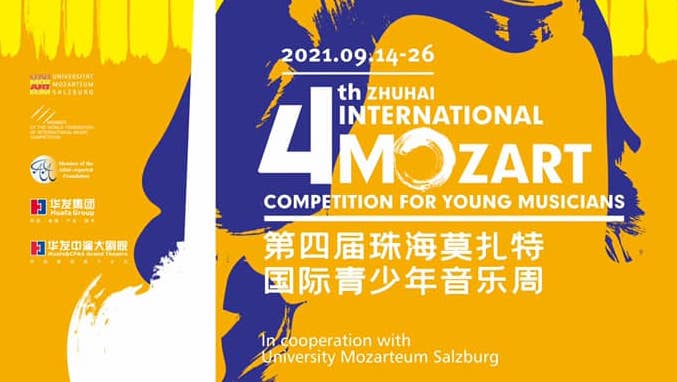 Established in 2015, the competition is presented by the University of Mozarteum Salzburg and hosted in three age categories.
Open to violinists 24 and under, the senior category first prize winner will receive $30,000. Normally taking place in Zhuhai, China, the competition will be held completely virtually this year due to the COVID-19 pandemic.
The first round livestream was held from September 14-16 while the second round livestream will take place from September 17-19.
The competitors who are progressing to the Second Round include:
Violin Group A:
Jayda Shiyu Lu
Tao Baiyi
Wu Yanyi
Amber Luoze Hu
Xie Huarui
Yang Quingyuan
Mei Lanxi
Zhang Ziqian
Guo Gengning
Guan Yaxin
Kaleb Toh Yi Chao
Violin Group B
Gu Yiwei
Zhang Hanyue
Fu Yumeng
Qian Zhiyuan
Li Jinzhu
Boha Moon
Wang Xiaozhuo
Leonhard Baumgartner
Sun Shuoran
Violin Group C
Zhao Yi'nan
Dongyoung Jake Shim
Yeyeong Jin
Cui Bo
Gawon Kim
Jieon Park
Zhang Jingyun
Ke Wenqi
Lorernz Karls
The Group A Finals livestream will be on September 20, 2022, Group B Finals on September 21, and Group C Finals on September 22.
The 2022 jury comprises Paul Roczek (Chairman), Pierre Amoyal, Kun Hu, Ida Kavafian, Alf-Richard Kraggerud, Dora Schwarzberg, Tong Weidong, and David Frühwirth.
Former first prize winners of the competition include VC Artist María Dueñas, Ziyu He, Chloe Chua, Daniil Bulayev, Shihan Wang, Liu Yiming, Yuzhe Qiu, Jinan Woo, Lina Nakano, Simon Zhu, and Haruna Shinoyama.