Prizes Awarded at Minnesota's 2018 Saint Paul String Quartet Competition
The Ohio-based DAJJ Quartet has been awarded 1st prize at the 2018 Saint Paul String Quartet Competition – in Minnesota, United States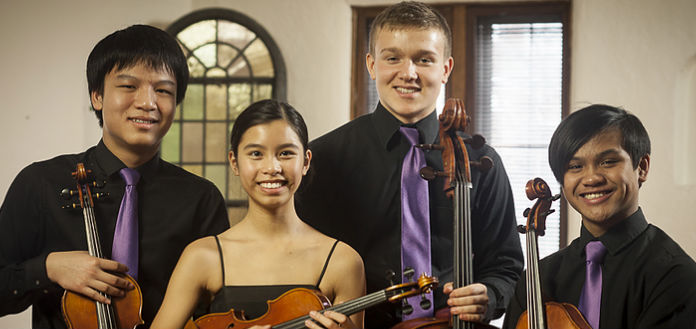 The Ohio-based DAJJ Quartet has been awarded 1st prize at the 2018 Saint Paul String Quartet Competition – in Minnesota, United States.
Comprised of violinists Daniel Tai, Anna Linder, violist Julian Tugaoen and cellist Jackson Tomsic, the DAJJ Quartet is a former major prize winner at the Coltman, Discover, and Ohio String Teachers Associations chamber music competitions.
They will receive $1,000 - plus 4 handmade Anderson music stands.
2nd and 3rd prizes were awarded to the Kairos Quartet and the Bear Quartet.
DAJJ QUARTET | SHOSTAKOVICH | STRING QUARTET NO. 10 | 2ND MVT | 2018 SPSQC | 1ST PRIZE 
KAIROS QUARTET | GINASTERA | STRING QUARTET NO. 1 | 1ST MVT | 2018 SPSQC | 2ND PRIZE 
BEAR QUARTET | MENDELSSOHN | STRING QUARTET NO. 2 | 1ST MVT | 2018 SPSQC | 3RD PRIZE
The annual competition is open to United States residents - with all members of the ensemble under the age of 19 and not yet enrolled in a college program.
The 2018 final round was adjudicated by the members of the Lark String Quartet.
Former prize winners include the Astera String Quartet, Vieira String Quartet, Chimera Quartet and the Atara String Quartet.