17 Girls and 1 Boy Announced for 2015 Michael Hill International Violin Competition
The 18 semi-finalists have today been announced for the 2015 Michael Hill International Violin Competition, to be held in New Zealand from the 6-13th June  – including VC 'Young Artists' Timothy Chooi from Canada and Suyeon Kang from Australia.
The 2015 Semi-Finalists are:
VC 'Young Artist' Timothy Chooi from Canada
VC 'Young Artist' Suyeon Kang from Australia
Jung Min Choi from South Korea
Anna Filochowsha from Poland
I-Jung Huang from Taiwan
Sanghee Ji from South Korea
Mimi Jung from the United States
Bomsori Kim from South Korea
Yu Eun Kim from South Korea
Marie-Chrstine Klettner from Austria
Eunae Koh from South Korea
liya Petrova Konyarova from Bugaria
Mari Lee from South Korea/Japan
Youjin Lee from South Korea
Ashley Park from the United States
Elly Suh from South Korea
Yabing Tan from China
Natsumi Tsuboi from Japan/United States
"We were hugely impressed with the standard of this year's applications," the selection panel have said,  "... along with a record number of entries, we felt there were a higher number of extremely high quality entrants, which made our job very difficult."
"Like the selection panel, I was surprised when the rankings were completed and to see only one male in the final 18," Competition Executive Director, Anne Rodda has said, "… Of course the selection process is entirely anonymous – the judges don't know who they are listening to ... female players have certainly proved their strength this time around."
"I'm so grateful to be one of the 18 participants chosen," VC 'Young Artist' Timothy Chooi has told The Violin Channel, "... I'm excited to be visiting New Zealand and sharing my music … and more than proud to represent the boys!"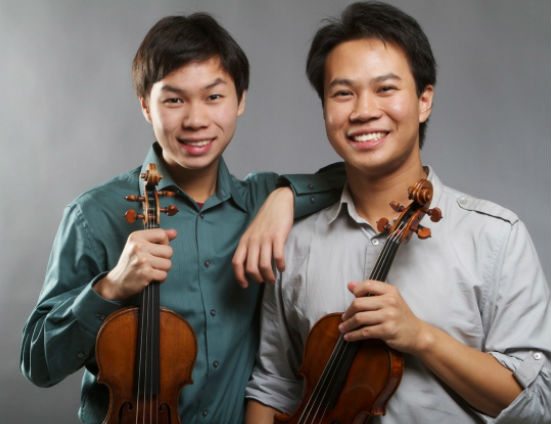 2015 Lone Male Competitor, VC 'Young Artist' Timothy Chooi - with Brother, 2013 1st Prize winner VC 'Young Artist' Nikki Chooi
The 2015 winner will receive NZ $40,000 (US $31,000), a recording contract, an intensive New Zealand performance tour - and a personalised professional career development programme.
The winner will also be invited to perform the competition's Founding Trustee, Sir Michael Hill's personal violin - the 1755 'Southern Star' Guadagnini on the competition winner's tour.
"I had the pleasure of observing the selection panel through the judging process and was completely blown away by the sheer volume of amazing young violinists – there was literally one after another, after another," Sir Michael Hill has said.
Held biennially, previous Michael Hill International Violin Competition 1st prize winners include VC 'Young Artists' Nikki Chooi, Josef Spacek, Bella Hristova and Sergey Malov.
Round 1 and 2 will take place in Queenstown from the 6-8th June – with Round 3 and the Final stage to be hosted at the Auckland Town Hall from the 10-13th June.
From the 158 applications received, 8 alternate candidates were also announced:
1. Christine Lim from South Korea  2. Ji-Yoon Lee from South Korea  3. Yasuka Morizono from Japan  4. Gi Yeon Yoon from South Korea  5. Francisco Garcia Fullana from Spain  6. Hwapyung Yoo from South Korea  7. Wei Lu from China and  8. Dongfang Ouyang from China
The 2015 New Zealand Development Prize was awarded to Amalia Hall – and the 2015 Australian Development Prize to Markiyan Melnychenko.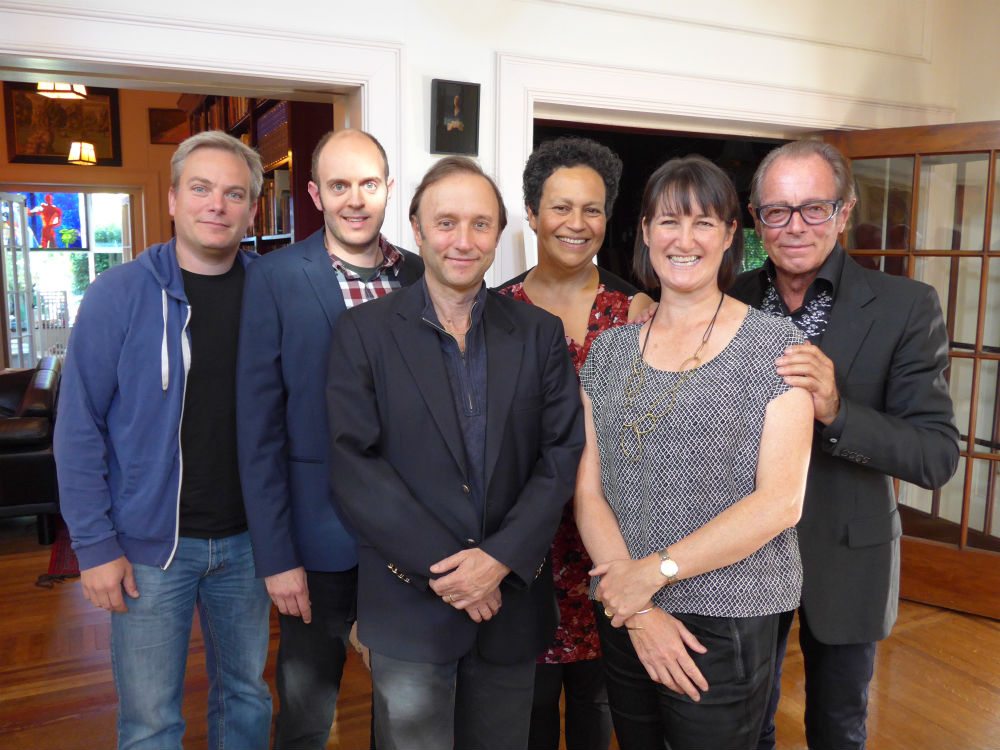 The 2015 Selection Panel (L-R): Vesa-Matti Leppänen, Andrew Beer, Dene Olding, Wilma Smith, Justine Cormack - with Sir Michael Hill
This year's selection panel included: Andrew Beer (Concertmaster, Auckland Philharmonia Orchestra), Justine Cormack (New Zealand Trio), Vesa-Matti Leppänen (Concertmaster, New Zealand Symphony Orchestra), Dene Olding (Concertmaster, Sydney Symphony Orchestra) and Wilma Smith (Concertmaster, Melbourne Symphony Orchestra).
The Violin Channel, as the competition's 2015 Official Online Media Partner, will be providing rolling coverage for all 9 days - live from the venues. You won't miss a beat.
PICTURED: 2015 Semi-Finalists, VC 'Young Artists' Suyeon Kang and Timothy Chooi